CLICK HERE TO READ AN EXCERPT FROM SAINT TRAINING
(Note: this is a .pdf file, get Adobe Reader here.)
Saint Training (ZonderKidz, 2010) is a humorous middle-grade novel. Mary Clare O'Brian thinks that her bargain with God - to become a saint if He'll make her family happy - will result in a miracle.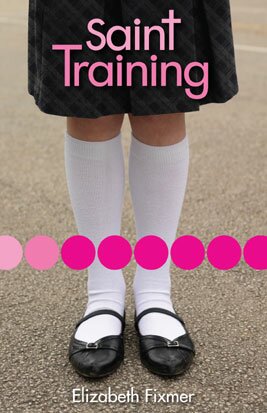 But with a war in Vietnam, race riots in the city, the Catholic Church turning cartwheels, and too much responsibility at home, miracles seem to be in short supply. Even on a good hair day.
What readers are saying:

Saint Training
Elizabeth Fixmer, Zondervan, $14.99 (256p) ISBN 978-0-3107-2018-8
Ingenuity, keen observational skills, and compassion grant this feisty protagonist growing insight into the complex choices faced by those she loves, as well as her own character and calling. Ages 9–12. (Sept.)
--Publisher's Weekly Review http://www.publishersweekly.com
Elizabeth's writerly vision is powerful and - and this is an important word for me - attentive. The writer looks at the world and, paradoxically, uses the world to make sense of the world. This is Elizabeth. In her novel Saint Training, she is charting the course of a human soul. She is looking at the way someone becomes most truly herself, finding that that course is not easy, straight, or expected.
-- Gary Schmidt, Newberry honor award winning author of Wednesday Wars (2009) and Lizzie Bright and the Buckminster Boy (Laurel-Leaf 2008)